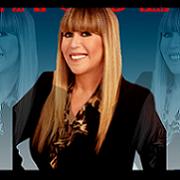 Randi Rhodes enlightens and entertains listeners with her trademark candid, incisive opinions, as well as her biting sense of humor, as she discusses everything from news and current events, to politics and hot topics.
Randi Rhodes, the Brooklyn native turned Miami broadcasting legend turned progressive talk radio pioneer became a national talk radio hero to millions in 2004 when she left her local South Florida program, where she had the #1 ranked talk show in her market, for national syndication.

A former secretary, waitress, trucker, and US Air Force aircraft mechanic, Randi started her radio odyssey quite modestly by playing 'classic country' from a storefront studio in Seminole, TX. From there she went on to Alabama, Milwaukee, Dallas, NYC and Miami before settling in West Palm Beach, FL to raise her niece Jessica after losing her sister Ellen to breast cancer. Randi's Air Force service in the late 1970's is where the seeds of liberal ideals first took hold. Namely, the concept of only being as strong as the weakest among you – a tenet that guides her to this day.

Randi is impeccably researched and infectiously funny; she pulls no punches and never fails to both enlighten and entertain. She starred in the HBO documentary 'Left of the Dial', was named Talkers Magazine's 2007 Woman of the Year and is probably watching C-SPAN right now.